THE ALL-SELLING EYE

ITEMS FOR SALE
CONTACT AVERY AT 6O2-8O3-255l
or secretmage at yahoo dot com
Clothing Collectibles Antiques Household Book

Vintage Leather Jacket - $70

Brown Fringed Leather Jacket from the 70s, this is an authentic hippie fringe jacket,
looks great, comfortable, and hardly ever worn, in great condition.

Black Leather Bomber Jacket - $20


Some tears inside, nothing major, comfortable and wearable, looks good.

Assotment of size 16-18 High Quality Women's Clothes

Various size 16 womens clothes, some with tags still on. This is a big box full, brand new clothing.
Vintage Phoenix Cardinals Glass, official NFL, circa 1980s

Elvis Presley Trading Card
1 of 66 card set, from Boxcar Enterprises, 1978

John Lennon Trading Card
Photographs - $30 each:

Levar Burton -- TV, Movie actor, Star Trek the Next Generation

Wil Weaton -- TV actor, Star Trek the Next Generation

James Earl Jones - Movie Actor

Bobby Clark as Gorn -- signed "To Avery From Bobby Clark The Gorn Captian"

Celeste Yarnall as Martha Landon -- signed "To Avery Love Celeste Yarnall and Yeoman Martha Landon "The Apple""

Grace Lee Whitney as Yeoman (Janice) Rand -- signed "To Avery With Love Grace Lee Whitney ST 1966

Carolyn Allport, actress -- signed "To Avery "Au revoir" from "Jessica Bradley" and Best Wishes from Carolyn Allport"

Promotion Card - $10

Clash of the Titans Promotion art card signed by Ray Harryhausen, animator

Ticket Stub - $10

Star Trek convention Phoenix Civic Plaza March 17, 1996 sighed by Tim Russ and Terry Farrell, Star Trek actors
Antique One-of-a-kind Sail Ship - $200
Hand made, cow horns, unique, rare, in perfect condition.
Indian Perpetual Calendar - $40
From 1970s, good until the year 2028, wall hanging or desk stand, brass, highly detailed, nice artistry
Nice wood hand crafted camels, and donkey, more than 60 years old.
Vintage Coaster Set - $40
Set from the 1950s, in original box, in perfect condition, 8 piece crystaline coasters,
good for kitchen or dining serving
GE White Microwave - $100
White Microwave made by General Electric. Perfect for cooking, lots of settings including Timer, Popcorn, Beverage, Potato, and more. For use in kitchen. Makes food hot or defrost. $250 new and this one is only $100. In perfect working condition.
Has turntable, clock, and easy to use. Nuke radar range home eat eating.
Drink Shakers for mixing drinks, metal, keep drinks cold - $10
High Quality Coffee Table - $20
In great condition, except the front of the drawer is missing. This is an excellent piece you will enjoy for many years.



Safety Goggles - $10
Clear plastic safety goggles with elastic strap, one size fits all, adjustable. Good for lab work, science, chemistry, engineering, or protection of eyes.
Dead Fish Stuffed Plush Toy - Meanie Baby, which is like a Beanie Baby but evil, fun, funny, gag gift. $5.00



Gould Biomation K100-D Logic Analyzer - $50

Useful for programmers, engineers, electricians, and geeks of all sorts.
This will take any input or program and break it down into binary, hex, or octal or into assembly.
This is great for education, hobbies, nerd craft, computer, electronics, and fun.
A logic analyzer is an electronic instrument which displays signals in a digital circuit. A logic analyzer may convert the captured data into timing diagrams, protocol decodes, state machine traces, assembly language, or correlate assembly with source-level software.
It works and is in great condition.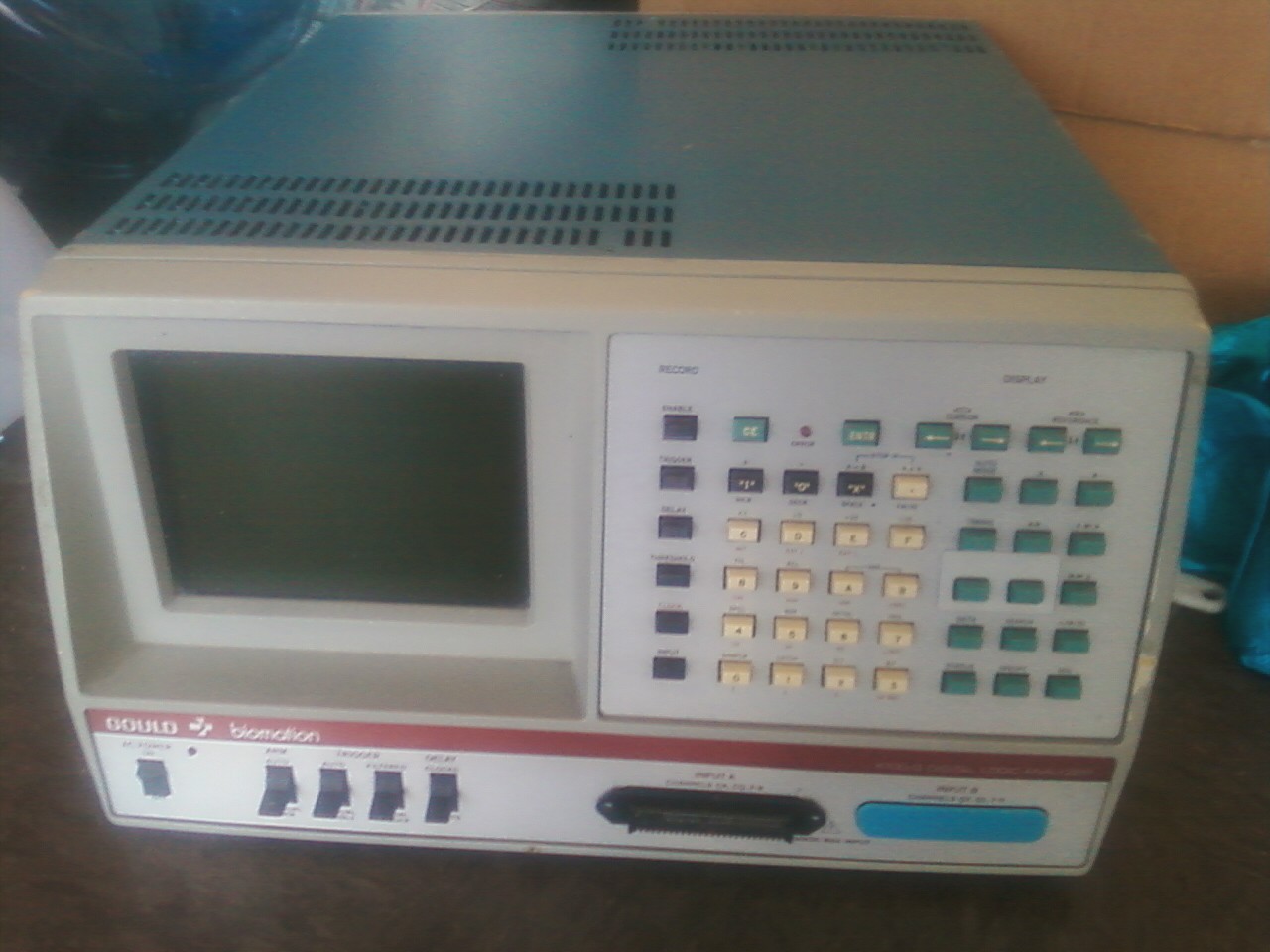 Boxes of White Plastic Bags - $10
Each box contains 1000 bags with handles, bags are good for a store, trade show booth, retail, selling anything, the size is 22x7x12, technically they are T-shirt size bags but are perfect for books, magazines, comics, music, they are all in perfect condition.
The Historical Helix: A "Revolutionary" View of History
by Gary F. Goodman and Kirk Wildman
Limited Edition. Only 1000 were ever printed. Rare.
This book describes a new theory, a way of seeing history as moving in coils.
Historians, scientists, sociologists and mathematicians would love this book.
Published by Island Heritage in Hawaii. Copyright 1975
Library of Congress Catalog Number 74-3804
$5 for paperback $19.95 for hardcover
keywords: used things for sale used items for sale used stuff for sale used goods for sale used merchandise for sale used books for sale used reading material for sale used cards for sale used trading cards for sale used non sports cards for sale used non-sports cards for sale used non sport cards for sale used non-sport cards for sale i want to buy are you selling cheap prices used catalog catalogue price guide valuable valuables used collectibles for sale used rare items for sale childrens children's entertainment buy cost sell selling sold read listen watch play nostalgic used nostalgia for sale oldies classic classics old stock bargain bargains gift gifts for sale grandpa's treasures grandpastreasures www.grandpastreasures.com used clotes for sale used clothing for sale used apparel for sale achieve financial freedom succede success make money earn income residual income how to be rich network private club membership success building club make money i want to make money how to make money how to have anything you want how to be healthy how to be happy how to be successful i want to be successful i want to be a success i want to succeed i want to succede law of attraction i want to be rich how to be rich i want financial independence how to have finalcial independence i want to have wealth how to have wealth i want to be wealthy how to be wealthy